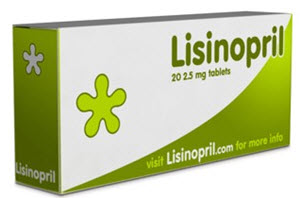 Type: ACE inhibitor
Active ingredient: Lisinopril
Common use: Lisinopril is an ACE inhibitor chiefly used to treat high blood pressure or congestive heart disease.
How to use: Unless otherwise ordered by your doctor, Lisinopril should be taken with a glass of water.
Lisinopril can be taken with or without food.
If you miss a dose of Lisinopril, take it as soon as possible. If it is almost time to take your next dose, skip the missed dose permanently and stick to your regular dosing schedule. Do no take two doses at once or near each other in time.
How to store: Store Lisinopril at room temperature in a tightly-closed container, and keep away from heat, light and moisture.
Warnings:
Do not stop taking Lisinopril without checking with your doctor first.
Always tell medical and dental staff that you are being treated with Lisinopril prior to any medical or dental treatments.
Lisinopril can cause dizziness, lightheadedness and fainting. Do not drive, operate machinery or do anything else that could be dangerous until you know how you react to Lisinopril.
Do not use a salt substitute before checking with your doctor first.
Do not combine Lisinopril with any prescription or over-the-counter medicine without it being approved by your doctor first.
Using Lisinopril during pregnancy can cause fetal death or newborn death. Lisinopril should not be used during pregnancy. If you are being treated with Lisinopril, take steps to prevent pregnancy.
It is unknown if Lisinopril is excreted in breast milk. Discuss the risks and benefits with your doctor before breastfeeding while using Lisinopril.
If you suffer from dizziness or lightheadedness, do not rise quickly after sitting or lying down.
Seek immediate medical attention if you experience shortness of breath, chest pain, slow heartbeat or irregular heartbeat.
Seek immediate medical attention if you experience symptoms of an allergic reaction, such as difficulty breathing, difficulty swallowing, swollen hands, swollen face, swollen lips, swollen eyes, swollen throat, rash, itching, or dizziness.
Examples of reported side-effects:
Nausea
Vomiting
Diarrhea
Fatigue
Dry cough
Headache
Dizziness
Lightheadedness