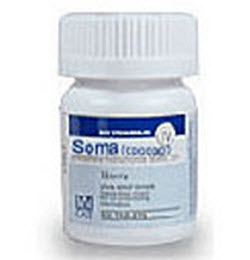 Type: Muscle relaxant of the carbamate class
Active ingredient: Carisoprodol
Common use: Coma is a muscle relaxant chiefly used to treat pain caused by muscle spasms.
How to use: Unless otherwise ordered by your doctor, Coma can be taken with food to decrease the risk of stomach upset.
If you miss a dose of Soma, take it as soon as possible. If it is almost time to take your next dose, skip the missed dose permanently and stick to your regular dosing schedule. Do no take two doses at once or near each other in time.
How to store: Store Soma at room temperature in a tightly-closed container, and keep away from heat, light and moisture.
Warnings:
Soma can cause dizziness and drowsiness. Do not drive, operate machinery or do anything else that could be dangerous until you know how you react to Soma.
To not rise quickly after sitting or laying, since that increases the risk of dizziness.
Contact your doctor right away if you develop a rash or itchiness.
Some will add to the effects of alcohol and other depressants.
Discuss the benefits and risks of using Soma during pregnancy with your doctor.
Soma is excreted in breast milk. Breastfeeding while using Soma is not recommended.
Examples of reported side-effects:
Drowsiness
Dizziness
Nausea
Headache
Rash
Itching