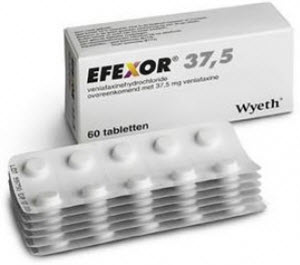 Type: SNRI
Active ingredient: Venlafaxine
Common use: Effexor is a serotonin-norepinephrine re-uptake inhibitor (SNRI) chiefly used to treat depression, general anxiety disorder, social anxiety disorder, panic disorder and vasomotor symptoms.
At low doses (<150 mg/day) it acts only on serotonergic transmission.
At moderate doses (>150 mg/day), it acts on both serotonergic and noradrenergic systems.
At high doses (>300 mg/day), it acts on both serotonergic and noradrenergic systems, while also affecting dopaminergic neurotransmission.
How to use: Unless otherwise ordered by your doctor, Effexor should be taken with a glass of water.
If you miss a dose of Effexor, take it as soon as possible. If it is almost time to take your next dose, skip the missed dose permanently and stick to your regular dosing schedule. Do no take two doses at once or near each other in time
How to store: Store Effexor at room temperature in a tightly-closed container, and keep away from heat, light and moisture.
Warnings:
Do not take Effexor if you are allergic to any of the ingredients.
Effexor is not recommended for anyone under the age of 18 years.
It can take several weeks for Effexor to reach its full effects. It is important to keep taking the medicine according to schedule even if you do not notice any improvements right away.
It is important to keep taking Effexor even if you feel well.
Do not stop taking Effexor abruptly. Consult with your doctor and gradually decrease the dose to diminish the risk of serious side-effects.
It is important to keep all doctors appointments and laboratory appointments while being treated with Effexor.
Effexor can cause dizziness or drowsiness. Do not drive, operate machinery or do anything else that could be dangerous before you know how you react to Effexor.
Other medicines can impact your reaction to Effexor. Never combine Effexor with other medicines (prescription medicine or over-the-counter medicine) without consulting your doctor first. Special caution is warranted if the medicine contains the cough suppressant dextromethorphan.
Contact your doctor if you experience headache, blurred vision or continued weight-loss.
Seek immediate medical attention if you experience severe suicidal thoughts or other types of severe self-harm thoughts.
Effexor will add to the effect of alcohol and other depressants.
If you are pregnant or plan to become pregnant, discuss the benefits and risk of Effexor with your doctor.
Effexor is excreted in breast milk. Discuss the benefits and risk with Effexor treatment with your doctor.
Examples of reported side-effects:
Drowsiness
Dizziness
Weakness
Nausea
Decreased appetite
Weightloss
Constipation
Dry mouth
Change in sexual function
Increased sweating
Nervousness
Tremor
Headache
Blurred vision
Mood changes
Self harm thoughts
Suicidal thoughts