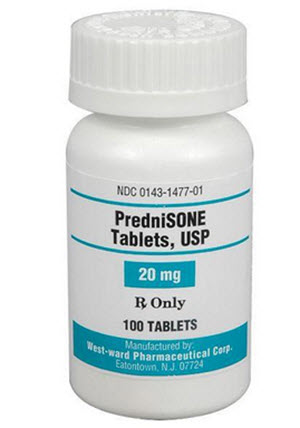 Type: Corticosteroid
Active ingredient: Prednisone
Common use: Prednisone is a corticosteroid chiefly used to treat severe allergies, asthma, skin conditions and arthritis.
How to use: Unless otherwise ordered by your doctor, Prednisone should be taken with food.
If you miss a dose of Prednisone, take it as soon as possible. If it is almost time to take your next dose, skip the missed dose permanently and stick to your regular dosing schedule. Do no take two doses at once or near each other in time.
How to store: Store Prednisone at room temperature in a tightly-closed container, and keep away from heat, light and moisture.
Warnings:
Inform your doctor of both your current health situation and previous health problems, since this is important information to have when weighing the benefits and risks of Prednisone treatment. Your doctor will also need to know about any medical treatment that you are receiving.
Do not abruptly stop taking Prednisone or change the dose dramatically.
Keep all doctor and laboratory appointments while being treated with Prednisone.
Inform medical and dental staff that you are being treated with Prednisone.
Prednisone will make you more susceptible to infections, especially if you take Prednisone for an extended period of time. As far as possible, avoid contact with people suffering from easily contagious infections, including the common cold.
Contact your doctor if you are exposed to chickenpox, measles or tuberculosis (TB) while being treated with Prednisone or within 12 months after ending the treatment.
If you are injured or experience any symptoms of infection during or after treatment (within 12 months), contact your doctor. Examples of signs of infection are fever, cold symptoms, muscle ache and painful urination.
There are several immunizations (vaccinations) that should not be administered while you are being treated with Prednisone or right after the end of the treatment. Check with your doctor or a doctor specializing in immunization before receiving any immunization.
Do not take any prescription medicine, over-the-counter medicine or alternative medicine without consulting your doctor first.
Discuss the benefits and risks of using Prednisone during pregnancy with your doctor.
Discuss the benefits and risks of breastfeeding while of using Prednisone with your doctor.
If you have diabetes, Prednisone may affect your blood sugar. Check your blood sugar levels vigilantly.
Contact your doctor right away if you experience black stools, vomit that looks like coffee-grounds, severe nausea, swollen feet, swollen legs, changes in menstrual periods, cold, fever, prolonged sore throat, or muscle weakness.
Examples of reported side-effects:
Difficulty sleeping
Mood changes
Nervousness
Increased appetite
Indigestion