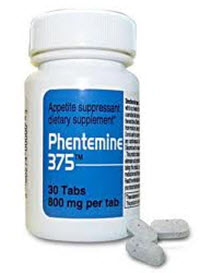 Type: Psychostimulant drug of the phenethylamine class
Active ingredient: Phentermine (phenyl-tertiary-butylamine)
Common use: Phentermine is an appetite suppressant. It is chiefly used for short-term management of obesity.
How to use: Unless otherwise ordered by your doctor, take Phentermine 30 minutes before a meal. The last dose of the day should be taken 4-6 hours before bedtime. If your doctor has advised you to only take Phentermine once a day, take your dose in the morning unless your doctor has told you otherwise.
If you miss a dose of Phentermine, take it as soon as possible unless that would mean taking it closer than 4 hours before bedtime. If it near bedtime or almost time to take your next dose, skip the missed dose permanently and stick to your regular dosing schedule. Do no take two doses at once or near each other in time.
How to store: Store Phentermine at room temperature in a tightly-closed container, and keep away from heat, light and moisture.
Warning:
Exceeding the prescribed dose of Phentermine may cause serious side-effects.
Taking Phentermine longer than prescribed may cause serious side-effects.
Keep all doctor appointments and laboratory appointments while being treated with Phentermine.
Do not combine Phentermine with any prescription medicine, over-the-counter medicine or alternative medicine without consulting your doctor first.
Do not drive, operate machinery or do anything else that could be dangerous until you know how you react to Phentermine.
Always inform medical and dental staff that you are being treated with Phentermine.
Discuss the benefits and risks of using Phentermine during pregnancy with your doctor.
It is unknown if Phentermine is excreted in breast milk. Breastfeeding while using Phentermine is not recommended.
Examples of reported side-effects:
Restlessness
Nervousness
Trouble sleeping
Dry mouth