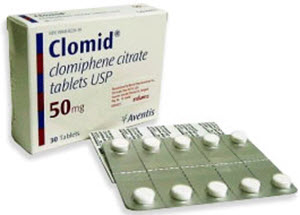 Type: Ovulation stimulator
Active ingredient: Clomiphene
Common use: Clomid is a non-steroidal fertility drug used to stimulate ovulation. Clomid causes the pituitary gland to release hormones needed to stimulate the release of an egg from the ovary. Clomid is chiefly used to cause ovulation in women with certain medical conditions that make naturally occuring ovulation less likely, e.g. polycystic ovary syndrome (PCO).
How to use: Unless otherwise ordered by your doctor, Clomid is taken for 5 days, with the first dose being taken on the 5th day of your menstrual period. You are likely to ovulate within 5-10 days after taking Clomid.
If you miss a dose of Clomid, contact your doctor for instructions.
How to store: Store Clomid at room temperature in a tightly-closed container, and keep away from heat, light and moisture.
Warnings:
A medical examination should precede every new treatment cycle.
Using Clomid for more than 3 treatment cycles in a row is not recommended.
Clomid can cause dizziness, lightheadededness or changes in vision. Do not drive, operate machinery or do anything else that could be dangerous until you know how you react to Clomid.
Using Clomid increases the chance of multiple pregnancy (twins, triplets, etc).
Contact your doctor if you experience stomach pain, pelvic pain, bloating or blurred vision.
Do not use Clomid while pregnant.
It is unknown if Clomid is excreted in breast milk. Using Clomid while breastfeeding is not recommended.
Examples of reported side-effects:
Hot flashes
Nausea
Vomiting
Tender breasts
Dizziness
Lightheadedness
Headache
Mood changes