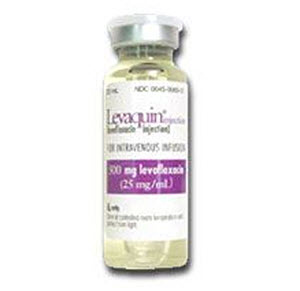 Type: Antibiotic
Active ingredient: Levofloxacin
Common use: Levaquin is a fluoroquinolone antibiotic used to treat bacterial infections, e.g. bacterial skin infections, bacterial respiratory tract infections and bacterial urinary tract infections.
How to use: Unless otherwise ordered by your doctor, Levaquin should be taken with a full (circa 250 ml) glass of water. Levaquin can be taken with or without food. While being treated with Levaquin, it is important to drink plenty of water throughout the day.
If you take any medicine that contains magnesium and/or aluminum, take your Levaquin at least 2 hours before or at least 2 hours after this medicine since it binds Levaquin. Examples of such medicines are quinapril, didanosine, sucralfate, bismuth subsalicylate, and many antacids. Also keep in mind that many dietary supplements contain magnesium.
If you miss a dose of Levaquin, take it as soon as possible. If it is almost time to take your next dose, skip the missed dose permanently and stick to your regular dosing schedule. Do no take two doses at once or near each other in time.
How to store: Store Levaquin at room temperature in a tightly-closed container, and keep away from heat, light and moisture.
Warnings:
It is important that you complete the full treatment, even if you start feeling better.
Do not use Levaquin if you are allergic to any of the ingredients.
Do not use Levaquin if you are allergic to any fluoroquinolone antibiotic, such as ciprofloxacin or ofloxacin.
Seek medical attention if you develop symptoms of an allergic reaction, such as rash, hives, swelling, dizziness or breathing difficulties.
If you experience moderate to severe diarrhea while being treated with Levaquin, contact your doctor and do not treat the diarrhea with over-the-counter medicines unless your doctor recommends it.
Keep all doctors appointments and laboratory appointments during the treatment.
Do not use other medicines (prescription medicines or over-the-counter medicines) during the Levaquin treatment without checking with your doctor or pharmacist first.
Levaquin can cause increase sensitivity to sun. Avoid exposure to sun, sunlamps and similar during the treatment. Protect your skin with clothes or strong sunscreen.
If you are pregnant or plan on becoming pregnant during treatment with Levaquin, discuss the benefits and risks of Levaquin during pregnancy with your doctor.
It is unknown if Levaquin is excreted in breast milk, but similar drugs are. Using Levaquin while breastfeeding is not recommended.
If you have diabetes, Levaquin may affect your blood sugar. Monitor blood sugar levels frequently and discuss the situation with your doctor.
Seek immediate medical attention if you experience seizures, chest pain, irregular heartbeat, confusion, change in amount of urine, yellowing of the skin or yellowing of the eyes.
Contact your doctor if you experience abdominal, tendon, joint or muscle pain.
Contact your doctor if you experience vaginal discomfort, mood changes, restlessness, or vision changes.
Prolonged use of Levaquin will increase the risk of fungal infection, e.g. vaginal yeast infection or oral yeast infection. If you develop a fungal infection, contact your doctor.
Examples of reported side-effects:
Dizziness
Lightheadedness
Diarrhea
Nausea
Sensitivity to sun
Trouble sleeping
Change in taste
Headache